Regular price
Sale price
$60.00 USD
Unit price
per
Sale
Sold out
*** Formerly Ceramic Coating V2 ***

Featuring a blend of Silicon Dioxide (SiO2) and Titanium Dioxide (TiO2), this easy to use ceramic coating will give you up to 2 years durability with proper maintenance.  Much longer than standard wax and paint sealants.  The Gloss Shop ZEN1TH Ceramic Coating is a multi-surface coating which saves you money.  ZEN1TH can be applied to paint, glass, plastic, and metal.  This eliminates the need to buy multiple products.  When applied to plastics they will take on a "just dressed" appearance.
We recommend maintaining the coating with The Gloss Shop Ultra Body Wash to cut through tough road film at least every two weeks.  An application of Hydrophobe Express Coating will add intense water beading and extremely slick surface.
Our coating is handmade in the USA in small batches.  It meets VOC compliance laws in all 50 states.  While the coating does not have strong odors common to ceramic coatings, we still recommend applying in well ventilated areas and wear proper protective equipment.
Directions:
1) Wash & dry vehicle thoroughly
2) To achieve best results, decontaminate surface to remove bugs, waxes, silicones, & fallout.  Polish paint to remove swirls & scratches if desired.
3) Shake well.  Pour a few drops on applicator.  Working in small sections out of direct sunlight, wipe on cool surface in a crosshatch pattern.
4) Ambient working temperature of 60-85° F, allow 1-5 minutes before gently wiping residue with microfiber towel.  Do not use heavy pressure.
5) Allow 24 hours before exposing to water.
*Discard applicator and towels after use.  Recommended PPE: gloves, safety glasses, and respirator.
Do not wash vehicle for the first week after application of coating to allow proper curing
Pro Tip:  When using on glass we highly recommend wiping residue at 1-2 minutes.  Any longer and the towel can become grabby and require additional effort to remove.
Share
View full details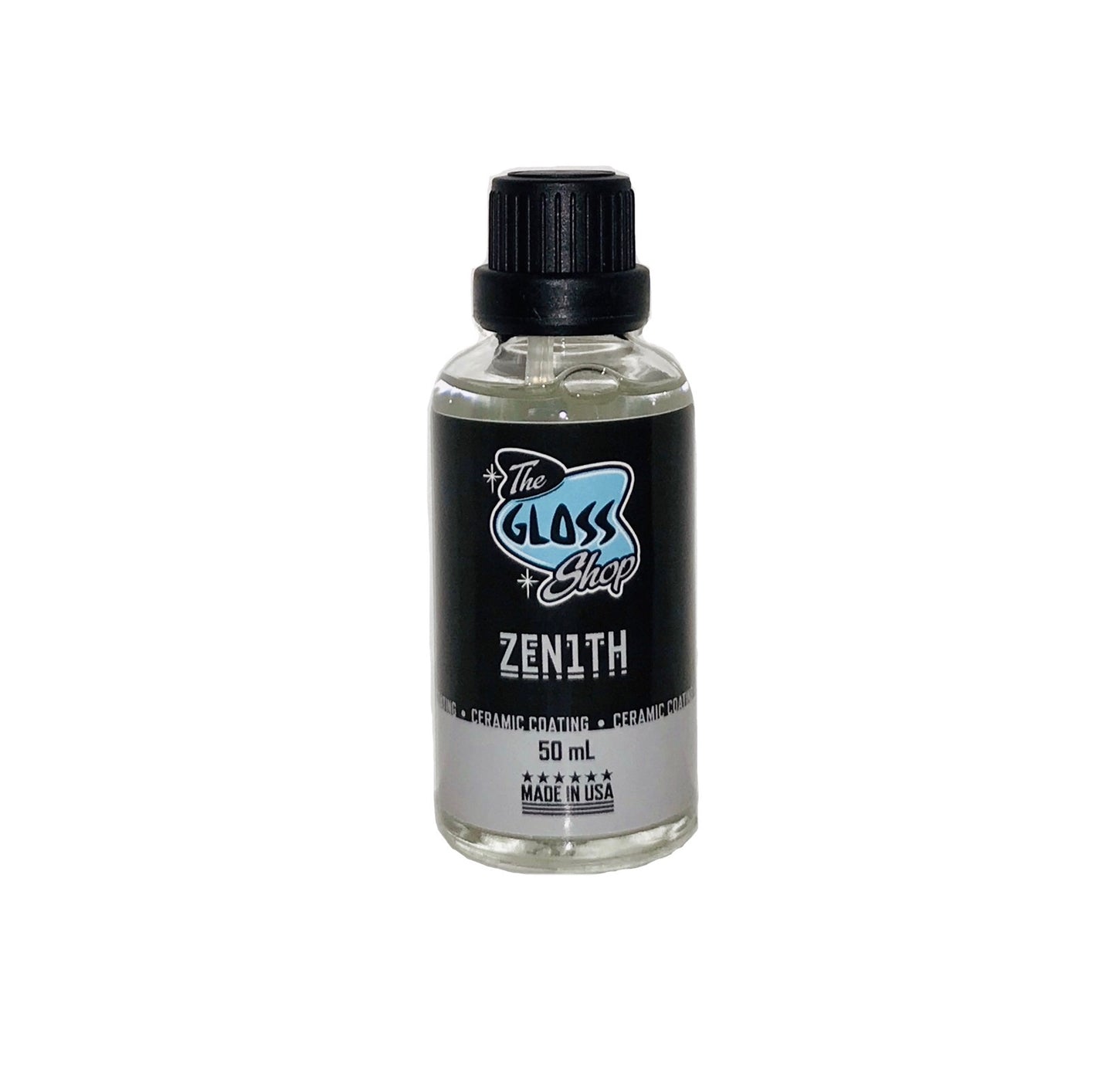 Perfect product
I see no cons to this coating. It's as easy to apply as pinnacle souverän wax. I only found one high spot when I pulled the car out in the sun the next morning. I simply put some more coating heavy on that spot, let set for about 3-4 minutes and leveled. The high spot was gone. It has a really nice glass look to the paint now. I'll be buying some more for another car.
Just to add, customer service is excellent. Richard is a stand up guy.
Good stuff...
I applied it to paint, plastic trim…even the flat, oxidized wiper arms of the truck. The paint took on a glossy, molten-glass look and being able to use it on plastic trim meant not really having to avoid those areas like some other coatings The black plastic bits took on an appearance of nicely dressed pieces and the wiper arms were rejuvenated to a like-new appearance.
Coating flashed to the 'rainbow effect' within a minute of being applied to the surface. I stretched out wipe-off from 1 minute to 5 to 6 minute intervals on different panels with no ill effects, although it did get tacky at the upper limits of that range.I ended up at around 1-2 minutes, coating an entire panel and then going back to remove without much of a wait and it came off nicely.
The paint was slick to the touch afterwards, with that soft, smooth feel of a freshly coated surface. It visually smoothed over edges and body transitions; didn't notice that it darkened the paint any.
At the end of the day, if it has the durability, self cleaning and hydrophobic effects to hold up over the long term, it's in the same league as other coatings at about 1/3 of the cost. It has a 'substantial' feel to it during application and leaves a nice feel to the paint after application; the look is deep and pleasing without being retina-burning like some coatings, harder-gloss look.
I've tried over 14 different coatings over the last 18 months or so (including V1) and this is moving towards the top of the list.
A great coating from a great company!
TGS's Ceramic Coating is, hands down, the easiest, most functional, and most effective surface coating on the market today. It easily beats the performance and ease of use of all other popular coatings out there. No, really. If you are a fan of coatings for protection, it would be insane to use anything other than this. It doesn't matter if you've never used one before or you're an experienced applicator, TGS's Ceramic Coating is going to be perfect for you.