Regular price
$110.00 USD
Regular price
Sale price
$110.00 USD
Unit price
per
Sale
Sold out
Introducing The Gloss Shop TITAN Ceramic Coating.  Titan is our 9h professional grade ceramic coating offering the highest level of Si02 content of all our coatings.   With proper maintenance, Titan will offer up to 5 years protection from a single layer.  Once cured, this coating offers the most resistance to scratches and the harsh elements a vehicle faces including graffiti.  The Gloss Shop Titan can be applied to paint, glass, plastic, wheels, and metal.  When applied to exterior plastics and trim, the finish will remain in a natural looking OEM condition.  
We recommend maintaining the coating with The Gloss Shop Ultra Body Wash to cut through tough road film at least every two weeks.  An application of Hydrophobe Express Coating will add intense water beading and extremely slick surface.
Our coating is handmade in the USA in small batches.  It meets VOC compliance laws in all 50 states.  While the coating does not have strong odors common to ceramic coatings, we still recommend applying in well ventilated areas and wear proper protective equipment.
**Ambient working temperature of 60-85° F** 
Directions:
1) Wash & dry vehicle thoroughly
2) Fully decontaminate surface to remove silicones, waxes, bugs, & fallout.  Polish paint to remove swirls & scratches.
3) Shake product well.  Pour a few drops onto applicator of choice.  Working on a cool surface out of direct sunlight, apply product in a crosshatch pattern no larger than 2'x2'.
4) Allow product to flash 1-2 minutes before gently wiping residue with a lint free microfiber towel.  Level high spots immediately, do not use heavy pressure.
5) Allow 24 hours before exposing to water or moisture.
*Due to quick flash time, professional application strongly recommended.
Discard applicator and towels after use.  Recommended PPE: gloves, safety glasses, and respirator.

Do not wash vehicle for the first week after application of coating to allow proper curing.

Pro Tip:  When using on glass we highly recommend wiping residue at 30-60 seconds.  Any longer and the towel can become grabby and require additional effort to remove.
Share
View full details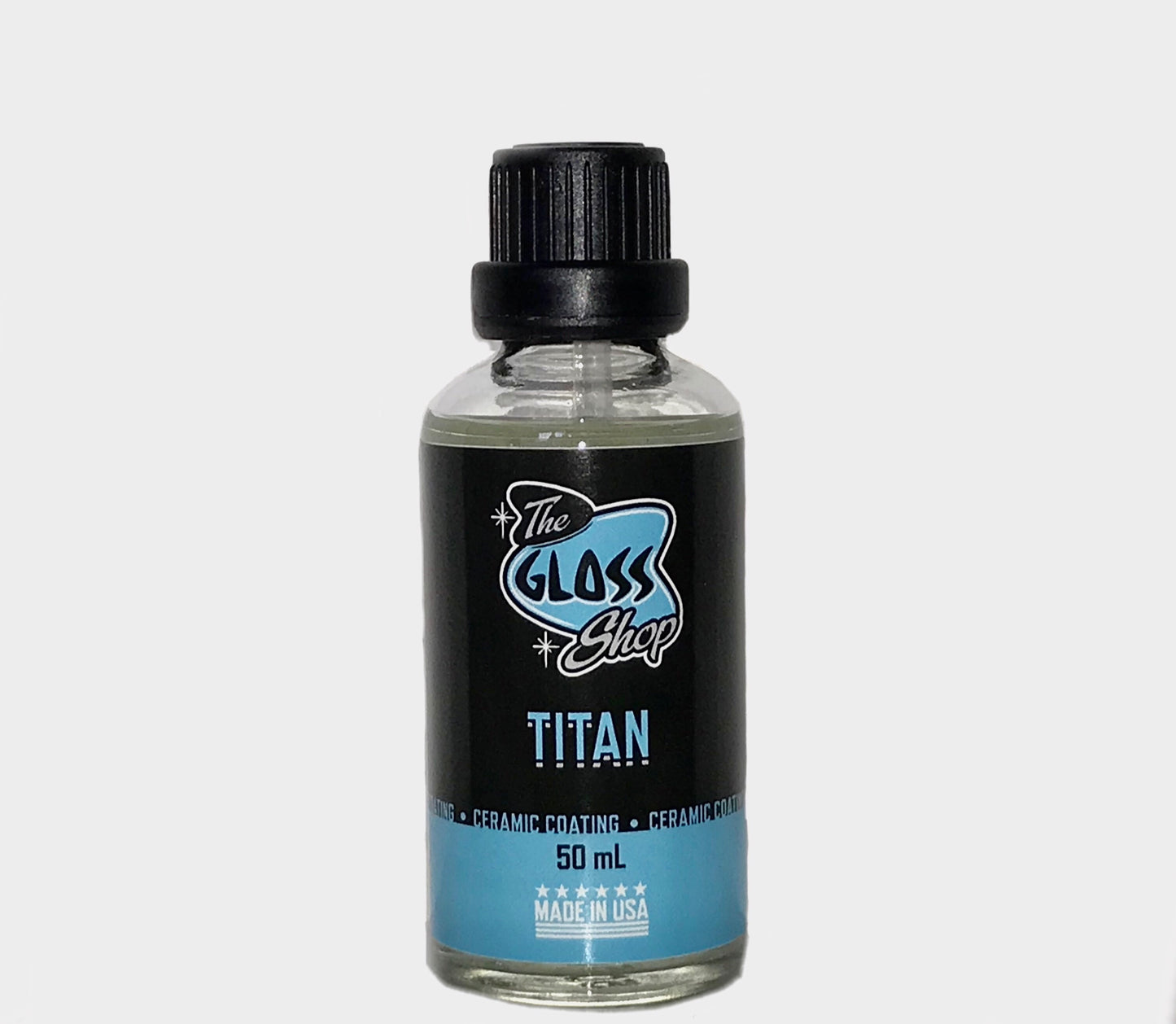 Wow! Great ceramic coating
I have used hundreds of ceramic coatings. Titan is right there at the top! Great costing, VERY durable , easy application! Very shiny, slick! Easy maintenance. This has become our shop go to coating. Buy it, you will not be disappointed!